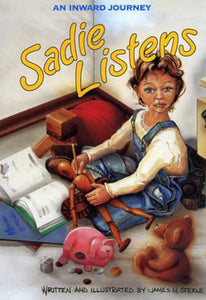 James Steele
An Inward Journey - Sadie Listens
Regular price
$17.95
$0.00
Unit price
per
A grief and healing story about the death of Sadie's cat and how she notices and nurtures her feelings, all on her own. The illustrations use specific colors to represent Sadie in relationship with different aspects of herself. One of the greatest gifts to bestow upon a child is the ability to transform difficult feelings. Since this book's debut in 2002, Sadie has encouraged children to overlay their own feelings onto Sadie's situation, drawing them into a Focusing experience. The clarity and intensity of the illustrations give children full permission to go deeply into, and finally allow expression, to life's paralyzing events. "The prevailing human may be the individual who can transform their broken humanness at the same velocity as technology and rapid planetary change".
 (Steele Studios, 2002)
43 Pages, Hardcover
Note: Vendors set prices.  The price we've listed was accurate at the time of listing.
---