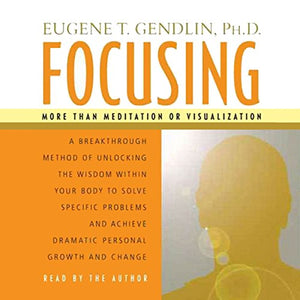 Eugene T. Gendlin, Ph.D.
Audiobook (abridged) of Focusing, read by Gene Gendlin
Regular price
$3.49
$0.00
Unit price
per
Here is a breakthrough method of "unlocking the wisdom within your body" to solve specific problems and achieve dramatic personal growth and change. This original, innovative program of self-therapy enables you to tap into your deepest level of wisdom, the "gut-level" knowledge that already exists within your body. By accessing this subliminal body-mind awareness (or "felt sense") that lies beyond thoughts and feelings, you can get to the root of the conflicts within you, gain a fuller comprehension of your unresolved problems, and solve them.
What is focusing? It is a technique of self-therapy that teaches you to identify and change the way your personal problems concretely exist in your body. Unlike methods that stress "getting in touch with your feelings", there is a built-in test: each focusing step, when done correctly, is marked by a physical relief, a profound release of tension. Focusing guides you to the deepest level of awareness within your body. It is on this level, unfamiliar to most people, that unresolved problems actually exist, and only on this level can they change.
Both a practical guide and a powerful philosophy of personal growth, this effective, proven procedure has wide-ranging applications, including healing, education, business, creative pursuits, and problem solving.
NOTE: The price here is what was listed when the product was added to our store
---