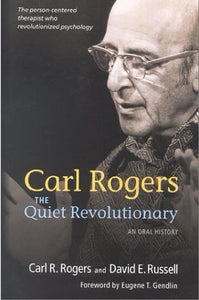 Carl R. Rogers
Carl Rogers: The Quiet Revolutionary an Oral History
Regular price
$12.99
$0.00
Unit price
per
Introduction by Eugene Gendlin.
Carl R. Rogers (1902-1987), a founder of the humanistic psychology movement, is one of the most influential psychologists of the twentieth century. His impact on education, counseling, psychotherapy, conflict resolution, and peace is unparalleled. He has enriched the world through his empathic presence, his rigorous research, and his authorship of more than two hundred articles and sixteen books. On Becoming a Person is one of the classics in psychological literature. Dr. Rogers created a profound and fundamental shift in the fields of psychology and human relations. His deep belief that each person has worth, dignity, and the capacity for self-direction was counter to the pervading thought of his day. In order to fully understand and appreciate his impact, it is important to know what experiences shaped his life and what influences directed his thinking. Carl Rogers: The Quiet Revolutionary is a unique kind of autobiography, or oral history, that explores all these aspects of his life, and more, through a series of interviews. The result is a lively account in Rogers' own words of the peaks and valleys of both his professional and personal life. In it he describes his early life, his family, his schooling, and his intellectual development, and it includes the early development of person-centered therapy, his disillusionment with academia, "The Therapeutic Hour" (including his thoughts on training the therapist, on supervision, and on research in psychotherapy), and his extensive efforts to reduce international tension through his work in northern Ireland, South Africa, and Central America ("The Peace Project").
352 pages
Note: Vendors set prices.  The price we've listed was accurate at the time of listing.
---