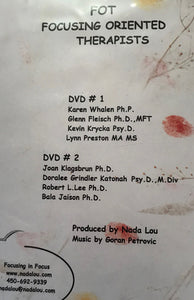 Whalen, Fleisch, Krycka, Preston, Klagsbrun, Grindler Katonah, Lee, Jaison, Nada Lou Productions
FOT: Focusing-Oriented Therapists
Regular price
$90.00
$0.00
Unit price
per
2 DVDs - Disk # 1- 76 min. Disk # 2 - 80 min. Focusing-Oriented Psychotherapy (FOT) is an emerging family of experiential psychotherapies based on the pioneering work of Eugene Gendlin. This process, which Gendlin named Focusing, is now considered to be the crux of therapeutic change and forward movement in psychotherapy.
Eight therapists present their unique applications of Focusing-Oriented work that were the basis of their study groups which were offered at the Focusing-Oriented Psychotherapies First World Conference.
Karen Whalen Ph.D. and Glenn Fleisch Ph.D., MFT Wholebody Focusing Therapy, Kevin Krycka Psy.D. Finding your World Voice
Lynn Preston MA, MS. The new Us
Joan Klagsbrun Ph.D. and Doralee Grindler Katonah Psy.D., M.Div. Finding Doorways to Spirituality in Psychotherapy
Robert L. Lee Ph.D. Using Focusing in Working with Difficult Patterns anxiety, depression, obsession, disassociation, rage, terror
Bala Jaison Ph.D. Integrating Experiential and Brief Therapy: Moving clients from insight to change.
---