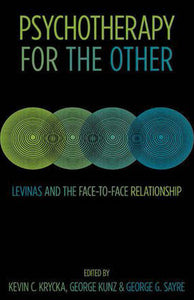 Edited by Kevin C. Krycka, George Kunz & George G. Sayre
Psychotherapy for the Other - Levinas and the Face-to-Face Relationship
Regular price
$30.00
$0.00
Unit price
per
When George Kunz, a coeditor of the present volume, visited with Emmanuel Levinas in 1987, Levinas asked, "Why would a psychologist be interested in my philosophy?"Psychotherapy for the Other represents the latest -- and one of the most innovative and in-depth -- attempt to address this intriguing and important question. These 14 essays, solicited from a wide range of scholars and practitioners, mount an important challenge to the traditional egocentric paradigm and natural sciences worldview that pervade much of contemporary psychology and psychotherapy.  
Engaging Levinas's thought, with its focus on ethics and our responsibility for others, leads to significant insights and ways to think about alternative approaches to the very practice of psychotherapy. A number of studies have discussed the implications of Levinas's ethics for therapy by focusing on the therapist's relationship to the client, but psychotherapy can also be envisioned as a broader and more ethical endeavor, focusing as well on the responsibility of clients toward the others in their own lives. Levinas's other-centered perspective inspires these authors to break from standard theory and technique so that neither concepts nor practiced skills remain at the center of therapy, and the client's freedom no longer remains the desired outcome. Rather, being ethical becomes more than following one's professional code of conduct, and responsibility is instead the therapist's primary contribution and the desired outcome of good psychotherapy.
Beginning with a reprint of Steen Halling's influential essay, "The Implications of Levinas's Totality and Infinity for Therapy," Psychotherapy for the Other moves forward with essential theoretical and practical discussions that build on such earlier explorations. Thus, essays freshly examine a variety of issues for psychotherapy: the nature of language, the apparent asymmetry in the therapist-client relationship, domestic violence, post-traumatic stress syndrome, motherhood, social justice, and trauma, among others. The conceptual and clinical examples discussed here make this book a truly useful tool for students, scholars, and practitioners alike.
Note: Vendors set prices.  The price we've listed was accurate at the time of listing.
---