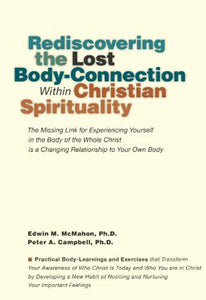 Peter A Campbell PhD and Edwin M McMahon PhD
Rediscovering the Lost Body-connection Within Christian Spirituality
Regular price
$21.00
$0.00
Unit price
per
By introducing the human body and its unique way of knowing into Christian spirituality, this workbook offers all Christians an inviting path beyond their often divisive debates and poisoned histories.
Many Christians today want more than religious information. They seek a transformational, new reformation. Longing for a spirituality no longer disconnected from what their body knows, they cry out for help in changing the relationship to their body's feelings. They search this fresh, holy ground to rediscover their own body within the Body of the Whole Christ.
By slowly journeying at your own pace through the body-learnings and exercises in this workbook -- whether alone, with a companion or in a group -- your steps in personal wholeness and the body-feel of grace open as one, unifying, organic experience. The implications for building peace-filled communities and a dedication to the global common good are enormous.
(Itasca Books, 2010)
261 Pages, Paperback
---