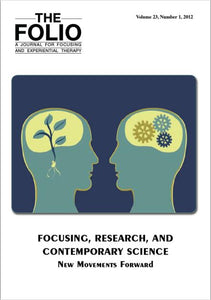 The International Focusing Institute - Edited by Bala Jaison, Ph.D. and Paula Nowick, Ed.D.
The Folio Volume 23 (2012) - Focusing, Research, and Contemporary Science - New Movements Forward
Regular price
$25.00
$0.00
Unit price
per
A collection of 13 articles from various authors.  Articles are grouped into two sections titled: Crossing Contemporary Science and Focusing & Researching Focusing.

FOCUSING, RESEARCH, AND CONTEMPORARY SCIENCE: New Movements Forward Crossing Focusing and Science, this issue is packed with wonderful articles including unexpected discoveries in Physics and Epigenetics, Neuroscience and Focusing, Focusing-Oriented Therapy and recent findings about brain plasticity - and - a wonderful article from our founder Eugene Gendlin. 
188 Pages, Paperback 
---