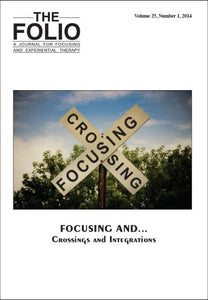 The International Focusing Institute - Edited by Bala Jaison, Ph.D. and Paula Nowick, Ed.D.
The Folio Volume 25 (2014) - FOCUSING AND ... Crossings and Integrations
Regular price
$25.00
$0.00
Unit price
per
A collection of 18 articles from various authors.  Articles are grouped into sections titled: Crossings in Personal Life, Crossings in Professions, Crossing in Psychotherapy

FOCUSING AND... Crossings and Integrations addresses the subject of 'Crossings' and 'Integrations' of Focusing... AND the 'crossings' that people in our community are doing are really quite astounding - from Focusing and Jung to Focusing and Architecture!
185 Pages, Paperback
---