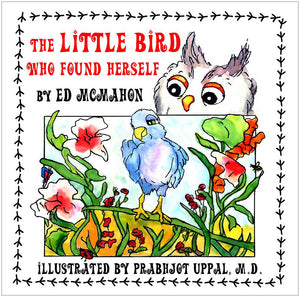 Rev. Edwin M. McMahon, Ph.D.
The Little Bird Who Found Herself
Regular price
$15.00
$0.00
Unit price
per
THE LITTLE BIRD Who Found Herself is a timeless book for all ages. Like the Little Prince or Velveteen Rabbit it is a metaphor, fable or folk tale clothed in the format of an inviting children's story. It reminds both young and old alike how we need to journey inside ourselves to find the gifted answers, the new meanings and directions that lie hidden and waiting to be noticed and nurtured in a very special way.

This charming little story has a universal appeal for both children and adults. Even more, it offers the beginning of a profound inner journey as well. It is a passage that parents, grandparents and adult child caregivers can take together with their children. The Wise Old Owl in this story companions Little Bird into her own inner world and maturing identity. The narrative becomes a model for adults as well as children, gently leading them into a caring way of listening to their own bodies' feelings--even fears and tears--so they can hear their hidden stories.
(Steuben Press, 2008)
28 Pages, Paperback 
---