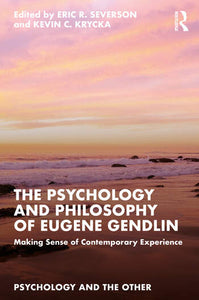 Eric R. Severson and Kevin C. Krycka
The Psychology and Philosophy of Eugene Gendlin (Psychology and the Other)
Regular price
$37.95
$0.00
Unit price
per
This book is an outcome of our 2021 Gendlin Symposium, which was the work of the Gendlin Research Center and the Departments of Psychology and Philosophy at Seattle University.  Drs. Severson and Krycka were chairs of that event and these essays were presented at that Symposium.
The book brings together a collection of essays written by scholars inspired by Eugene Gendlin's work, particularly those interested in thinking with and beyond Gendlin for the sake of a global community facing significant crises. 
The contributors take inspiration from Gendlin's philosophy of the implicit, and his theoretical approach to psychology. The essays engage with Gendlin's ideas for our era, including critiques and corrections as well as extrapolations of his work. Gendlin himself worried that knowing about a problem is too often conflated with actions that might lead to change; the essays in this book point to a form of understanding that is activated, an embodied and immediate way of thinking about today's problems. Throughout the volume, the contributors creatively engage with Gendlin's work and its applicability to the complex, pressing crises of our time: the Covid-19 pandemic, environmental/climate issues, racism, sexism, economic inequality, and other factors threatening human persons and communities.  
Gendlin's theoretical approach to psychology is naturally interdisciplinary, making this book an essential read for anyone interested in moving to the boundaries where psychology meets philosophy, theology, art, environmental studies, science, and technology, and much more.
About the Author
Eric R. Severson is a philosopher specializing in the work of Emmanuel Levinas. He has edited several other Routledge volumes, including Race, Rage, and Resistance (2019), Memories and Monsters (2017), and The Ethical Turn (2016). Severson is also the author or editor of seven other books. He teaches philosophy at Seattle University, USA and lives in nearby Kenmore, Washington.
Kevin C. Krycka is a professor of psychology and Associate Dean for Social Sciences and Graduate programs and Seattle University, USA. He has authored over 20 articles and book chapters extending Gendlin's philosophical and psychological works in the areas of psychotherapy and qualitative research. He was the inaugural chair of the Gendlin Research Center and continues as a member of its board.
Note:  Vendors set prices.  The price we've listed was accurate at the time of listing.
---