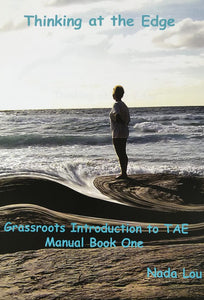 Nada Lou
Thinking at the Edge: Grassroots Introduction to TAE (Manual Book One)
Regular price
$25.00
$0.00
Unit price
per
This 95 pages Manual combines theory, stories, personal experiences, and practical work sheets. It will explore some of Dr. Gendlin's philosophy so that your TAE work will be embraced by and built on his tradition.  
It begins with a light entry introduction to TAE and the 14 Steps 
You sometimes sense that there is the Edge of your "knowing" and "not knowing yet". This often happens in the area of your job, study, hobby, or keen interest of any kind. There is a delicate sense of excitement about it. Like a kind of holistic discomfort. You want it to be said so you try to articulate it. It may be still disorganized; words that don't say what you mean. Yet you felt sense that it needs to be said.  
What you sense has tremendous value because it has not been said or experienced by anyone else in the same way as you have it. You know about it because your interest comes from a unique actual experience that calls for your attention.  It has a value because you know it is true and could become viable.  
(Focusing in Focus 2004) 95 Pages, Paperback
---