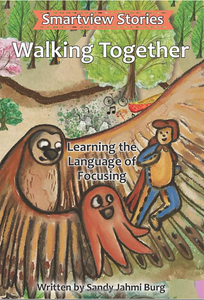 Sandy Jahmi Burg
Walking Together: Smartview Stories Book 2
Regular price
$12.00
$0.00
Unit price
per
Walking Together, Book 2 features the Poplar Family. Movement is an important aspect of how we can support ourselves in living brain healthy lives. All three stories involve situations where Stryder or Wendy find someone to walk with them through new experiences. For the part of our brain that is uncomfortable with not-knowing, this sense of walking together brings relief and ease. In Quiet Like a Deer, Stryder finds himself awake at night with a strong inner knowing he'd like to explore. Wendy joins him. In New Moon Walking, Wendy convinces Mama that their feet can grow eyes and dance in the dark if they join Grammy and Grampy for their monthly New Moon Walk. Frustration builds up in Stryder as he plays games online with his friends in The Blame Game. Papa shows us how he gives Stryder space, acceptance and encouragement that he will find his own way, rather than a sense something is wrong. And, of course, they walk as they talk.

Welcome to the second of many books in the series Smartview Stories, a self-empowerment book project for children and adults ages 9-99! Our emotional literacy stories help unlock this instruction manual and its hidden language. Our body and brain are always wanting our well-being. We can learn their language. Body sensations, emotions, images, thoughts and gestures are all ways our body uses to communicate with us. This language reveals what is going on inside of us and around us. Over time, with practice, a mutual trust develops within us. We see our life with fresh eyes. New possibilities emerge.

Within each Smartview Stories book, our three stories are Flesch-Kincaid Reading Level Grade 3, supplemental pages are Grades 4-6. The characters and events portrayed in our books are fictitious and based on real life experiences. There is an understanding that human beings are living processes. Each book includes three short stories featuring one family. A fourth story features our Inner Companions. Based on neuroscience concepts, the inner companions help illustrate our inner world.
The Poplar Family consists of Papa Sam age 37, Mama Dawn age 38, Stryder age 11, Wendy age 8, Levi age 4, and their dog Casey. Together, they enjoy biking, camping, art, singing and music. Mama Dawn and Papa Sam learned Focusing shortly before Stryder was born so that they could raise their kids with these skills. They are a typical busy family and feel blessed to be using Focusing as a way of life in community with others.

Our books bring our inner world to life via three Inner Companions: Hummah, Sleuthin, and Ashamaya. These three aspects of being human help us experience and live our life. They are with us at every moment. As we become more aware of them, we understand HOW to better support ourselves, and those around us, in all types of life situations. May this trio of inner companions inspire you in your journey toward thriving.
Paperback, 95 pages
Kindle version also available

---